Back to the Past: UIC's Beginnings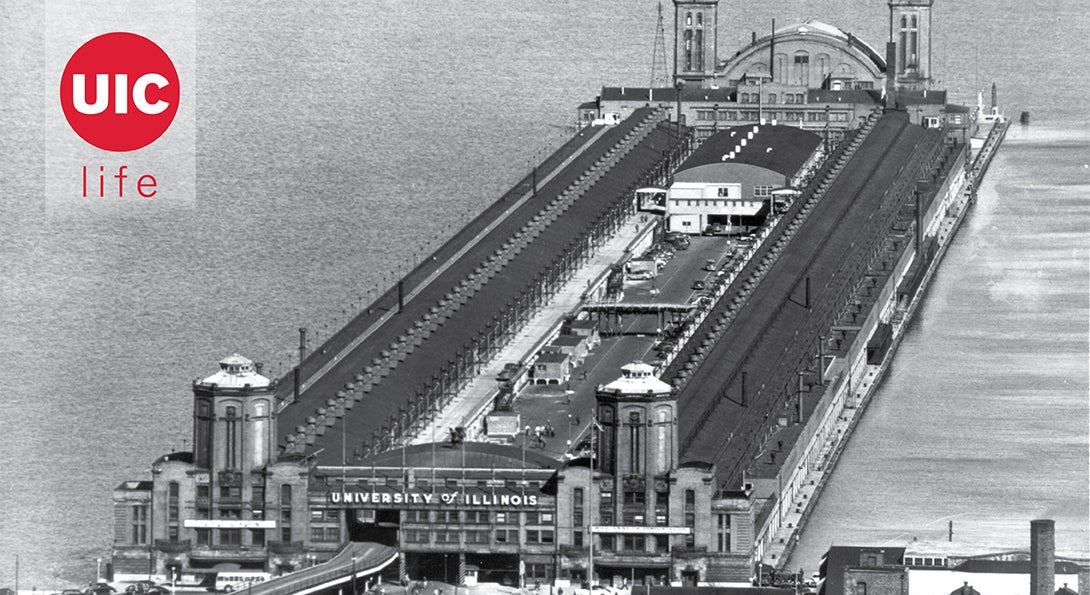 The beginning of the University of Illinois at Chicago (UIC) is a story filled with ambition, dreams, and hope. With several World War II veterans returning to their homes in Chicago, many of them wanted to continue their education in order to smoothly transition back into society and study in the rapidly growing city. In 1946, the University of Illinois opened a temporary 2-year institution called the Chicago Undergraduate Division, located at Navy Pier, to allow many war veterans and others to complete their first two years of college and later complete their degree at the University of Illinois Urbana-Champaign.
With more students enrolling at the Navy Pier Campus each semester, many of whom were first generation college students, the location allowed access to higher education closer to home. The demand for a public university in the City of Chicago continued to grow. This demand resulted in the construction of a permanent, 4-year degree granting institution in Chicago. In 1961, Mayor Richard J. Daley offered what is known as today's location for the new addition to the University of Illinois system.
In 1965, the campus was named the University of Illinois at Chicago Circle (UICC), and became an accessible 4-year public degree-granting institution near downtown Chicago. With the ambition and dream to becoming one of the best public universities in the country, UICC strived for quality education and opportunities for all of its students. In 1982, UICC was merged with the Medical Campus and became known as University of Illinois at Chicago (UIC). As a result of this merger, UIC became known as a Carnegie Research 1 institution in 1987 and opened up many more opportunities for the undergraduates on campus.
Because of UIC's beginnings, many students today are able to attend a quality public, research institution in the country's 3rd largest metropolitan city. Students no longer have to worry about leaving their homes to attend university in another city or state, and now have a place full of opportunities in Chicago's downtown.
To learn more about the history, student life, and architecture of UIC through the years, visit the university library's online exhibit, or view the "UIC From Pier to Present" video.
Comeback for more as we dive deeper into UIC today and its unique components such as the Jane Addams Hull House, the Richard J. Daley Library, and more!
Modified on March 10, 2021