Student Orgs: The Laboratory of Life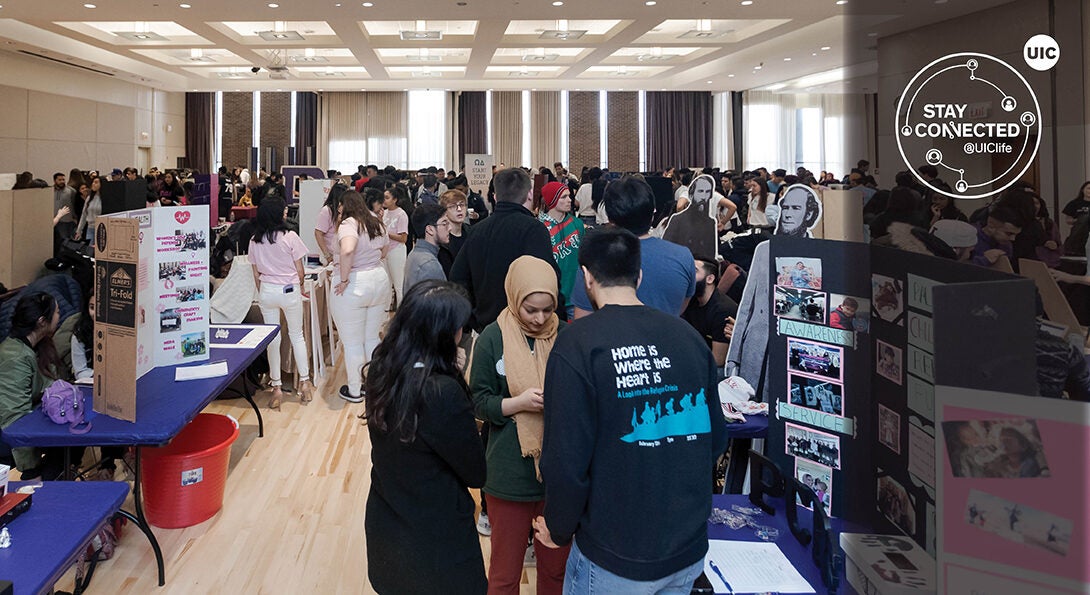 One of the best ways to get involved on campus is to get involved with the many student organizations that UIC has to offer. From professional development and service organizations to cultural and art based organizations, UIC has it all. Joining a student org is the best way to connect with your peers while making a difference on campus.
Vance Pierce, Associate Director of the Center for Student Involvement, is an expert on student organizations. Vance primarily guides the development of student organizations, trains student org leaders, assists organizations with fundraising, and helps student organizations become successful on campus. There are over 450 student organizations at UIC. Although this number may seem daunting, many orgs serve a unique purpose.
Student organizations play an important role on campus. Vance describes their purpose as a way for students to experience the "Laboratory of Life" and make their positions in the UIC community "Seen, heard, and felt". For students wondering how they can get involved with organizations on campus, UIC Connection is a great place to look for upcoming events. Vance encourages students to commit to the events they find interesting. If you feel intimidated going alone, bring a friend!
Another great way to find the perfect organization is by attending events like the Sweetheart Expo, hosted by the Center for Student Involvement. This year the event was held on February 13th, right in time for Valentines Day. Student organizations of all kinds gathered in Student Center East to raise awareness for their causes, recruit new members, and sell sweet treats. Friendly faces occupy each table and invite students to learn more about getting involved. From organizations like the Social Gaming Club to Society of Women Engineers, students can find a wide variety of interests at the Sweetheart Expo. Check out UIClife on TikTok for some footage.
A main event for students to discover new organizations is the Involvement Fair, hosted by the Center for Student Involvement. Held at the beginning every Fall and Spring semester, the Involvement Fair is a great opportunity to go window shopping and find your place to make an impact.
A few organizations at the Sweetheart Expo shared how they are making a positive impact and how to get involved.
Black Students in Business
Black Students in Business addresses the interests and needs of Black students in the UIC College of Business. President Autumn Swanson describes BSIB as an organization that aims to "empower the Black community and boost professionals for Black students". Networking events, job shadowing, and community service are just a few of the opportunities that members can take part in to gain real life experience. The organization is described to have a "strong, lively, and powerful presence" and wants to provide Black students with the resources they need to succeed in college and beyond.
Wondering how to get involved with BSIB? Follow Black Students in Business on Twitter, Instagram, and TikTok. Autumn advises students to "join one of our committees and or be a part of the E-board! Students can gain exclusive access to scholarships, networking, and job opportunities once they pay their dues, attend 50% of all meetings & events, apply for scholarships, have at least 3 community service hours per semester, and actively be on a committee." If you're looking to join a "fun, new, and unique" organization, BSIB is for you!
Aahana
Aahana strives to eliminate ignorant views on social inequality through education and their network of leaders and changemakers. President Ruju Talati, describes Aahana's mission as one that focuses on "educating the public about issues that are prevalent in our society today". To make this possible, Aahana hosts events like speaker series, fundraising, volunteering, and social events where members can take part in important discussions and give back to the community.
Students can get involved with Aahana by attending general body meetings as well as a variety of other events hosted throughout the school year. If leaving a lasting impression through standing up for social issues is something you aim to do during your time at UIC, Aahana is the perfect organization to help make that happen. Follow Aahana on Instagram to be the first to know about new events and service opportunities.
Mujeres En Medicina
Mujeres En Medicina is an organization that aims to foster a sense of community for pre-health students where they can feel safe, heard, and empowered. Dayane Padilla, President of Mujeres En Medicina, says that the organization aims to "Create and provide opportunities to grow in a personal, professional, and academic setting". Being a part of a supportive community that encourages growth is a great way for students to excel in their fields and build strong foundations for their futures.
Although labeled as a pre-health organization, Mujeres En Medicina is open to anyone who finds that they resonate with their goals and mission. The organization offers professional opportunities like healthcare certifications as well as social events that allow students to build their network while also exploring the city. To get more involved, check out Mujeres En Medicina on their website, and Instagram.
------------
Make the most out of your college experience. Add depth and meaning to your college years by joining a student organization where you can meet new people, participate in events, and serve as a student leader on campus.