Volunteering During the COVID-19 Pandemic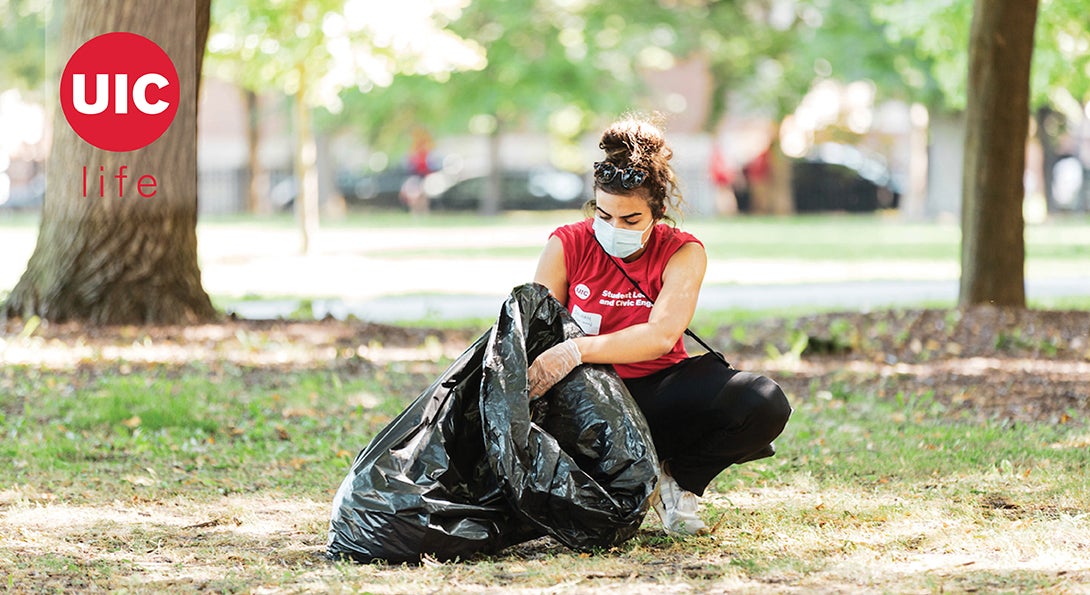 Giving back to one's community is a great way to stay involved and make an impact. UIC Student Leadership and Civic Engagement (SLCE) assists students in getting involved and becoming leaders. Why is volunteering so important during the pandemic? The simplest answer is because many people do not have the resources to help them during this global crisis. Skyler Imhoff, a graduate assistant from SLCE, says that helping the community will not only help those in need, but will help ourselves as well.
"Students have expressed being thankful for their [volunteer] experience because of the stress management and self-care they receive while going through the motions of a service project," said Imhoff. "There is something special about wearing a mask alongside other volunteers while safely completing projects that will have an impact on the world around them."
With the pandemic altering the ways we do service in our community, there are still plenty of ways to give back. Through SLCE, UIC students can find many volunteering opportunities. Here are 10 involvement opportunities:
Make Mondays Matter
Taking place on the first Monday of each month, in partnership with campus partners, this regular service opportunity allows students to give back while on-campus. Projects have included making fleece-tie blankets for infants of teen parents and assembling welcome kits for hospice patients. For details, visit service.uic.edu.
Get Involved with Volunteer Experiences (GIVE)
GIVE is a monthly program where students can serve the larger community and support organizations off-campus. Activities have included family game nights with children experiencing homelessness and sorting donations for low-income families. For details, visit service.uic.edu.
UIC School of Public Health
Students and alumni are welcome to volunteer for opportunities involving COVID-19 testing, phone screenings, and data entry to support local health department efforts and the overall community. For details, click here.
Make a Mask
UI Health is seeking volunteers to help make masks to fight the mask shortage and to give to community members that do not have resources to buy a store-bought mask. Instructions and a survey to drop off finished masks can be found here.
My Block, My Hood, My City
Volunteers can ensure seniors have access to canned goods, hand sanitizers, toilet paper, and other essential goods through a donation or delivery. Monetary donations are also accepted and will go to buying more goods and supporting the organization. For details, click here.
Lifting Hearts with the Art
Create a meaningful relationship with residents of assisted/independent living homes and homes for the blind/visually impaired who have been isolated by COVID-19. Meetings will be conducted virtually with residents. Volunteers will play music, create art, or simply chat. For details, click here.
American Red Cross
During this time of crisis in the U.S healthcare system, anyone can donate blood to help lessen the blood bank shortage. For details, click here.
Greater Chicago Food Depository
Volunteers can help pack up donations for the community. Projects include repacking bulk products such as pasta or rice to individual/family portions, assembling boxes with assorted food, checking expiration dates, labeling products and gleaning produce. For details, click here.
Lakeview Pantry
Lakeview Pantry is looking for volunteers to deliver food boxes, pack food, and are accepting any food or monetary donations. For details, click here.
By The Hand
This organization is seeking volunteers that love kids and are willing to make a difference in the community. Opportunities include food service and clean up, virtual tutoring and/or mentoring, and virtual activities. For details, click here.
Students can be reassured that these volunteer opportunities are trustworthy and reliable to join. SLCE will help any student get involved in their community whether in-person or virtually. For volunteer opportunities, visit service.uic.edu.
Stay positive and explore new opportunities during this period of change!
Modified on January 27, 2021